We honor our Centenarians
Mrs. Thennie Jackson Gates Bray
Mrs. Thennie Jackson Gates Bray
August 8, 1903 - August 12, 2007

She was born to the late Edith Jackson Parham and Ben Parham in Meriwether County, Georgia. She was a very faithful and dedicated member where she served on the Mother Board as a devoted member until her health declined. Mother Bray was know for the many delicious meals she served, she was an excellent cook. A loving heart, a grateful heart, and a spiritual heart...We thank God for her life, 104 years.

"God has been good to me with divine grace and mercy until we meet again on the other side, farewell."

Service of Love Entrusted to: Hill's Funeral Home, Inc., Greenville, Georgia
Mother Bray - Going Home
Springfield Baptist Church Greenville, Georgia
Miss Mattie Parks 1905-2006

Mrs. Mattie Ella Jackson Parks, the ninth of eleven children was born to the union of the late Mr. and Mrs. Jennie Jackson on June 30, 1905. She joined the Springfield Missionary Baptist Church at an early age and remained a faithful member until her health declined. She served as a member of the choir, a deaconess and on the Mother Board. She was united in Holy Matrimony to the late Deacon Henry Paraks, Sr and to this union five children were born, one preceded her in death. All with her children, son and daughter in law, she leaves 16 grandchildren, 36 great grandchildren, 19 great-great grandchildren, and a host of nieces, nephews (great and great-great) cousins and devoted friends. Her service of love was entrusted to Hill's Funeral Home, Inc.

Dick Mathews
Gaither "Dick" Mathews
October 6, 1902 - March 4, 2006

Mr. Mathews was 103 years of age. He was born the son of of William Boadman Mathews and Lucretia McCrary Mathews. He was a retired truck driver and delivered produce all over the eastern United States. At 103, Mr. Mathews was older than: Bob Hope, the A-Model Ford, the World Series, the movies, the Victrola, the ice cream cone, the banana split, New Mexico, Arizona, Alaska and Hawaii. He is survived by his wife, Irene O'Neal Mathews of Gay, two daughters, Janice Mathews Garrett of Greenville, Dixie Mathews Harbuck of Griffin; six grandchildren and five great grandchildren. Cox Funeral Home is in charge of arrangements.
Dick Mathews, Gay, Georgia
Mrs. Aime Juliet Smith Walker
When I'm gone, release me, let me go....
Mrs. Walker was born February 28, 1900, to the late Walter and Mary Wilkerson Smith. She leaves to cherish her memory her childern Mrs. Hazel Kennedy, Mrs. Georgia Blow, Mrs. Lillie Murphy, Mrs. Mary Jane Griggs and Mr. James Walker, 5 grandchildren, 22 great grandchildren, 29 great-great grandchildren, 8 great-great-greatgrandchildren, nieces and nephews. She was preceded in death by her husband, 3 sons, 4 brothers and 3 sisters. She went home January 21, 2006. The care of our family & friends was entrusted to Lakes-Dunson-Robertson Funeral Home.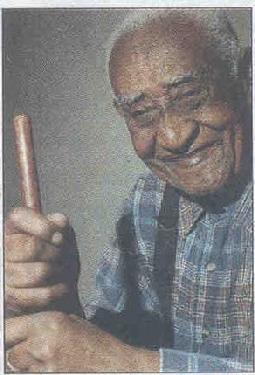 George Boone, Sr.
April 15, 1898 - August 8, 2005
The 5th of 6 childern of Alonzo and Julia Boone, married to the late Lizzie Bridges, resulting in four childern, the late Woosie Lee and Alonzo. Survived by: son George Boone Jr and a daughter Daisy L McFarland, 13 granchildern, 23 great grandchildern and 14 great, great grandchildern. A member of Solomon Grove Baptist Church where he served faithfully on the Deacon Board. He was president of the Oak Grove UAB Society and a faithful member of the People's Benevolent Society. Final arrangements entrusted to Juanita Harrell, West Georgia Mortuary LaGrange, Ga.
Praying Horses
"We would like to take this opportunity to thank the entire staff of Kingdom Outpost for your wonderful compassion and generosity during our time of sorrow. The horse drawn hearse made the service so special and also make it easier to say goodbye. May God continue to keep you and bless you is our prayer." Thank you, The Boone Family

Missionary Mother Minnie C. Boddie May 18, 1902 to August 12, 2005
Born to the late Sandy and Minerva Atkinson. Founding member of The True Holiness Church of God in Jesus Name, assistant treasurer, President of Community Mission, a member of the Golden Age Club, President of the Sunshine Band and Mother of the Church. She is preceded in death by her husband Sidney Boddie and 2 sons, Robert Boddie, Sandy Boddie and a grandson Sandy Boddie III. She is survived by one grandson Mickey Robert Boddie, a sister in the Lord, Julia Traylor, niece Rosa McCutchen, 4 great grandchildern, 13 great-great-great grandchildern, 2 great-great-great-great- grandchildern and a host of neices and nephews, family and special friends. Final tribute by Wanda Jennnings, Mackey-Wilson-Jennings Funeral Home
Website powered by Network Solutions®